1.11.6
---
News
13 PM
Category: General
Posted by: admin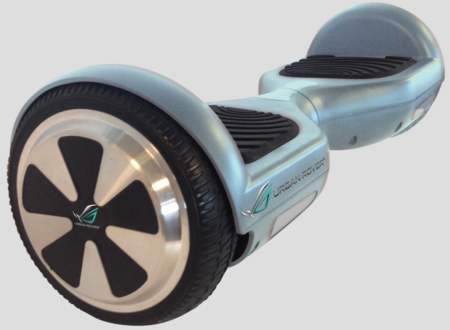 Urban Rover - The high end self balancing board.
For retail, wholesale, and distribution opportunities, please contact Eddie Dziura by emailing
eddie@key-biscayne.com
or calling 305-498-1641
10 AM
Category: General
Posted by: admin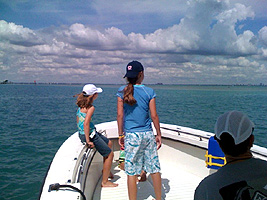 There is so much more of Key Biscayne to see and experience from the water and it is possible to rent a wonderful vessel right here on the island of Key Biscayne.  If you and your friends and family would like to tour the sandbars, the bay, or venture into the blue water for some offshore fishing in a twin engine vessel or sail aboard a luxurious catamaran sailboat, your trip is merely moments away. Simply call or send a text to 305-498-1641 for prompt, friendly, and professional assistance in putting together your personalized and private time on the water today.  email: keybsea@gmail.com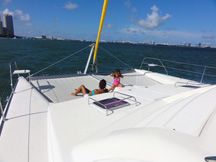 12 PM
Category: General
Posted by: admin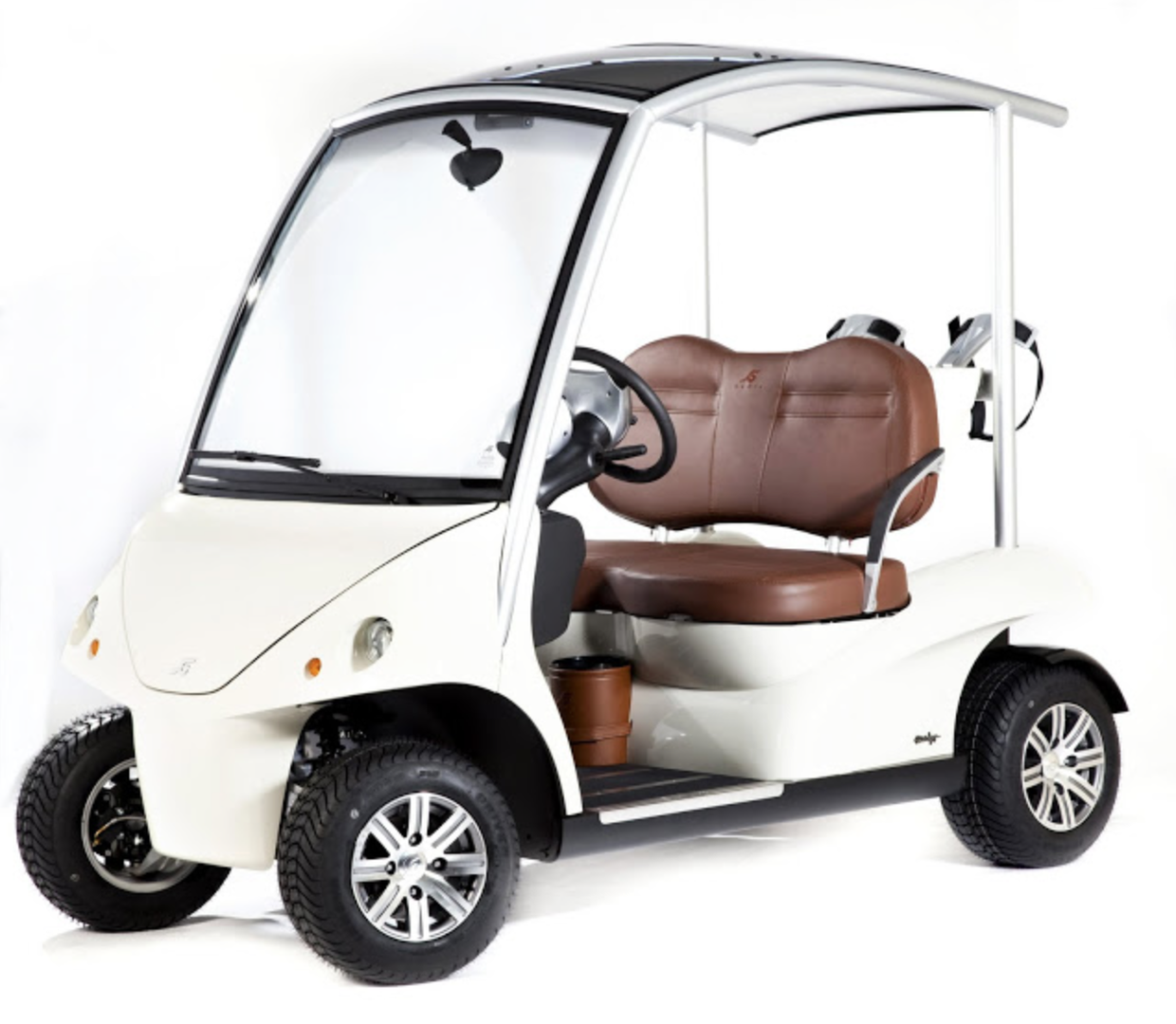 Key Biscayne Toys LLC brings the best in luxury high end golf carts to the island of Key Biscayne as a Garia distributor. The Garia is approved at more than 100 luxury communities throughout North America including the island of Key Biscayne.  Key Biscayne Toys LLC and Garia present the ultimate luxury golf car. The Garia has a very unique construction while using only the best materials that allows for complete customization to complement a vessel, home or lifestyle.

Key Biscayne Toys LLC is on the front side of this luxury golf cart movement as there is a clear trend in high-end communities allowing luxury products to be used to enhance the quality of life.

As an extremely unique luxury product, the Garia is a great match for the high-end community of Key Biscayne. With the luxury Garia golf cart, residents and visitors can complete the experience of luxury, exclusivity and unrivalled customer service which are all available right here on the island.
By far, the best way to experience the luxury Garia is to schedule a free demo with Key Biscayne Toys LLC by calling 305-934-2038 or emailing info@keybiscaynetoys.com

Boats - Charters / Rentals
Key Biscayne Boat Charters and Water-sports
keybsea@gmail.com
305-498-1641
Private boat charters, fishing trips, dive trips, sunset  cruises, enjoying life on Key Biscayne.....
Enjoy what YOU and YOUR friends and family want to do, and not some goofy horrible tour boat!
Go where the action is!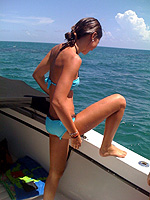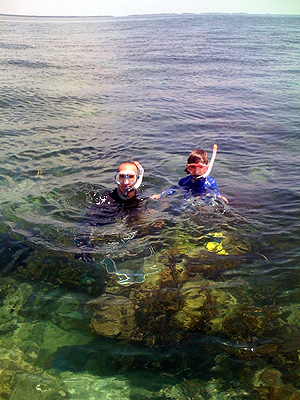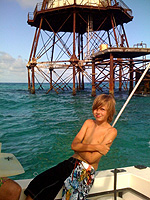 Key
Biscayne  is the perfect spot for you, your friends, and your family to go boating.  Call now and be on the water this afternoon!
Your safety and enjoyment is our priority.
We LOVE our jobs and will customize your time on the boat. 
If you like to snorkel or swim, fish, go island hopping, site-seeing, or just find the perfect sandbar, set up a few lounge chairs and a Barbeque grill to make a fresh lunch or snack, this is your time!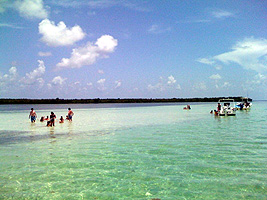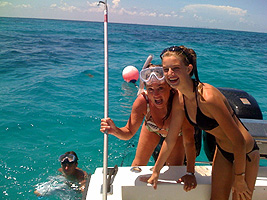 Several Dolphins escort the boat as we glide through the crystal clear water.  Dolphins delight in both leading the boat and also 'surfing' in the wake of the boat even jumping out of the water over the boat wakes while we are 'underway'.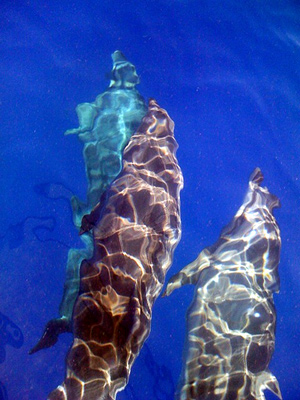 Don't cram your family on a over-crowded boat doing and seeing things you don't care about! Spend a few hours on the waters of Key Biscayne and you won't stop talking about it all year!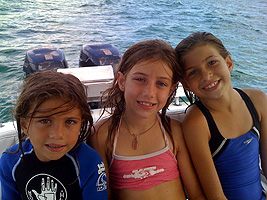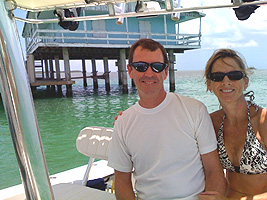 Rent your own vessel or charter a boat with a Captain/Guide for a few hours,  half a day, or for a full day.
Our expert  captains/guides are uniquely qualified to set up the boats to specifically cater to what YOU want to do.
You will enjoy the most popular charters which are 3-4 hour excursions around Key Biscayne.  
See the Cape Florida Lighthouse
, (from the water) tour, swim, snorkel, or fish at
Fowey Rocks Lighthouse
then perhaps lunch at a local sandbar, no name harbor, Soldier's Key, the Ragged Keys or lunch on the island of
Boca Chita
.
You can travel through the "Stiltsville" (which are party houses built on the water), stop at a local sandbar for swimming/floating/eating lunch/finding shells and do all of this within the 4 hour charter time frame without feeling rushed at all. This is your trip, your time on the water and we move at your pace so that you are certain to enjoy every minute.  When reserving a time and a day, we will work with you and the particular needs of your party to plan out in advance your agenda and to make certain all of the gear that you may need is on the boat ready and waiting for you to arrive and begin enjoying.  While there are people who would prefer to snorkel or scuba dive  live reefs, others want to fish or while some simply want to enjoy touring some uninhabited islands several miles south of Key Biscayne.
What would YOU like to do?  Call now and allow us to help you have the perfect day on the water!
                                          Phone 305-498-1641  
keybsea@gmail.com
Key Biscayne  Boat Charters - Boat Rentals
Come enjoy boating around Key Biscayne, 'The Island Paradise', the top of the Florida "key chain", yet Key Biscayne is not inter-connected with the hundreds of Florida Keys from Islamorada, Key Largo, Marathon, all the way down to the southernmost point of the continental United States of America, Key West by bridge.  Living and working in the Florida Keys ON Key Biscayne, the best, clearest, straightest path to the upper and middle Florida Keys is by boat.  AND, there is no traffic.  Quite often, many of us will take our families along with our lovely ladies from Key Biscayne to Key Largo for a lunch on one of the waterfront restuarants where we can moor the boat right next to our tables where the Reggae music is playing.  If we get an early start on the day and the weather permits, we will simply head our vessels due east and have lunch in Bimini, Bahamas instead since it
is exactly the same amount of nautical miles in travel.  It is a nice perk of living here, and a wonderful product that we can offer to you in the event that you would like original Bahamian Conch Fritters for an appetizer and only the original will do.  Straight out of the water and onto your plate.  We have found that these types of adventures are for the more seasoned travelers who want a little bit more than a T-Shirt and a magnet to go on their refridgerator at home. 
Questions? Comments? We will be happy to hear from you!
Call 305-498-1641  
for more information, rates, availability, or reservations.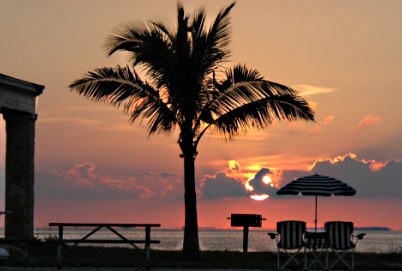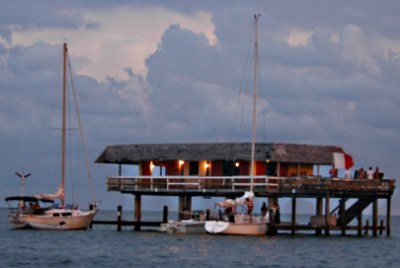 Enjoy a sunset on an unihabited island or tour through 'Stiltsville' (above)
Charter Boats on Key Biscayne 
We typically use our twin engine 28' - 35' power boats for most trips around Key Biscayne and the upper Keys for groups of 6 - 8 people to save on fuel costs.  We will be happy to take your small group of 6-8 people on our 100' Sportsfisherman, but it will really puts a dent in the wallet at the fuel pump!  It is YOUR choice, YOU are the boss, and we will do what YOU want to do, WHEN you want to do it.  Also, we do NOT put other groups on the boat that you have reserved for the day, and ONLY do that when two seperate groups of people request to travel for the day together to split the price.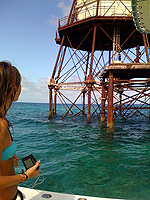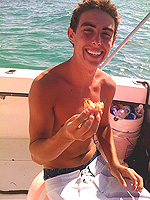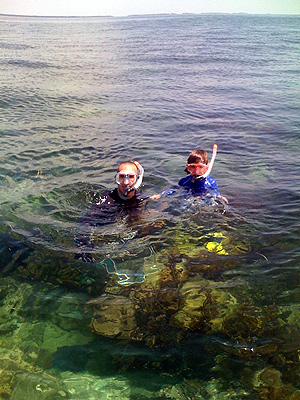 Fowey Lighthouse after a swim, a fresh caught & cooked lobster lunch and snorkeling.
Sightseeing Key Biscayne from the water  -  Tours of Key Biscayne
Snorkeling  -  Scuba  -  Artificial Reefs  -  Natural Shipwrecks  -  Fishing off of Key Biscayne  -  Spearfishing  -  Lobstering  -  Swimming and floating over reefs  -  Exploring uninhabited islands looking for shells  or artifacts  -  Pulling the boat up onto a natural sandbar to play ball  -  play frisbee on the sandbar  -  set up a volleyball game on the sandbar  -  take a nap after a big lunch on the sandbar  -  Sport and Extreme Scuba Diving Trips  -  Wreck and Cave Diving  - Wreck Diving on Key Biscayne Shipwrecks  -  Shipwreck diving between Key Biscayne, Soldiers Key, The Ragged Keys, Sands Key, Elliott Key to Key Largo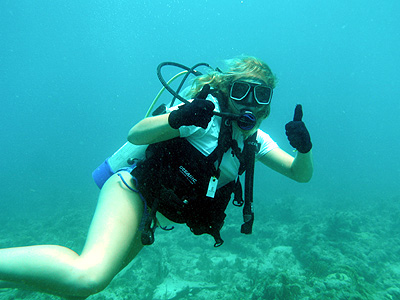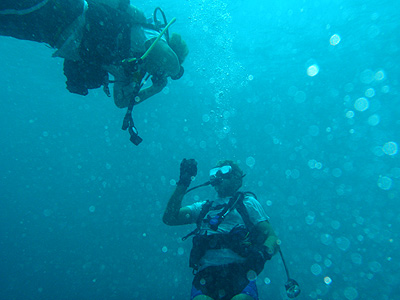 With over 400 local shipwrecks to dive and countless reefs, scuba is very popular.
Daily or overnight trips to Bimini, Bahamas, (just 50 miles east of Key Biscayne) are available.
We consider all of the different factors of your time with us such as the size of your group, the level of comfort that some members of your party may or may not have with boats, the ocean, sea-sickness, ability to swim, age, physical, or psychological challenges / disabilities, children, and your ambitions of what you would like to see, do, and experience while on the water.  These private boat charters are all about you, your friends and/or your family totally enjoying the time on the water.
You will be talking about the 3 -4 hours that you spend on the ocean around Key Biscayne for years to come!  A perfect family outing and wonderful life lesson and real world experience for children.
Safety is always first, and we pride ourselves with redundancy of ALL of our safety gear.
Questions?  We will be happy to help!
Call 305-498-1641
email:keybsea@gmail.com

for more information, rates, availability, and reservations.