1.11.6
---
News
13 PM
Category: General
Posted by: admin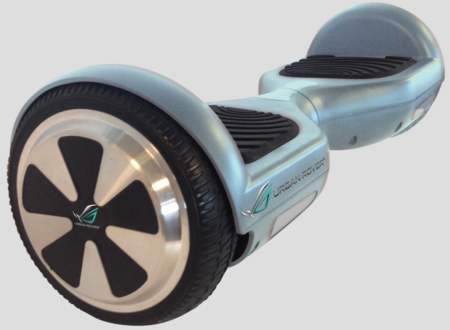 Urban Rover - The high end self balancing board.
For retail, wholesale, and distribution opportunities, please contact Eddie Dziura by emailing
eddie@key-biscayne.com
or calling 305-498-1641
10 AM
Category: General
Posted by: admin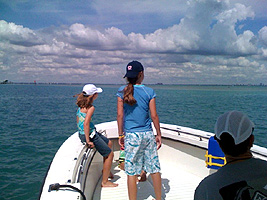 There is so much more of Key Biscayne to see and experience from the water and it is possible to rent a wonderful vessel right here on the island of Key Biscayne.  If you and your friends and family would like to tour the sandbars, the bay, or venture into the blue water for some offshore fishing in a twin engine vessel or sail aboard a luxurious catamaran sailboat, your trip is merely moments away. Simply call or send a text to 305-498-1641 for prompt, friendly, and professional assistance in putting together your personalized and private time on the water today.  email: keybsea@gmail.com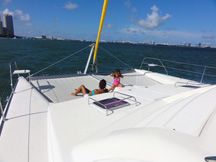 12 PM
Category: General
Posted by: admin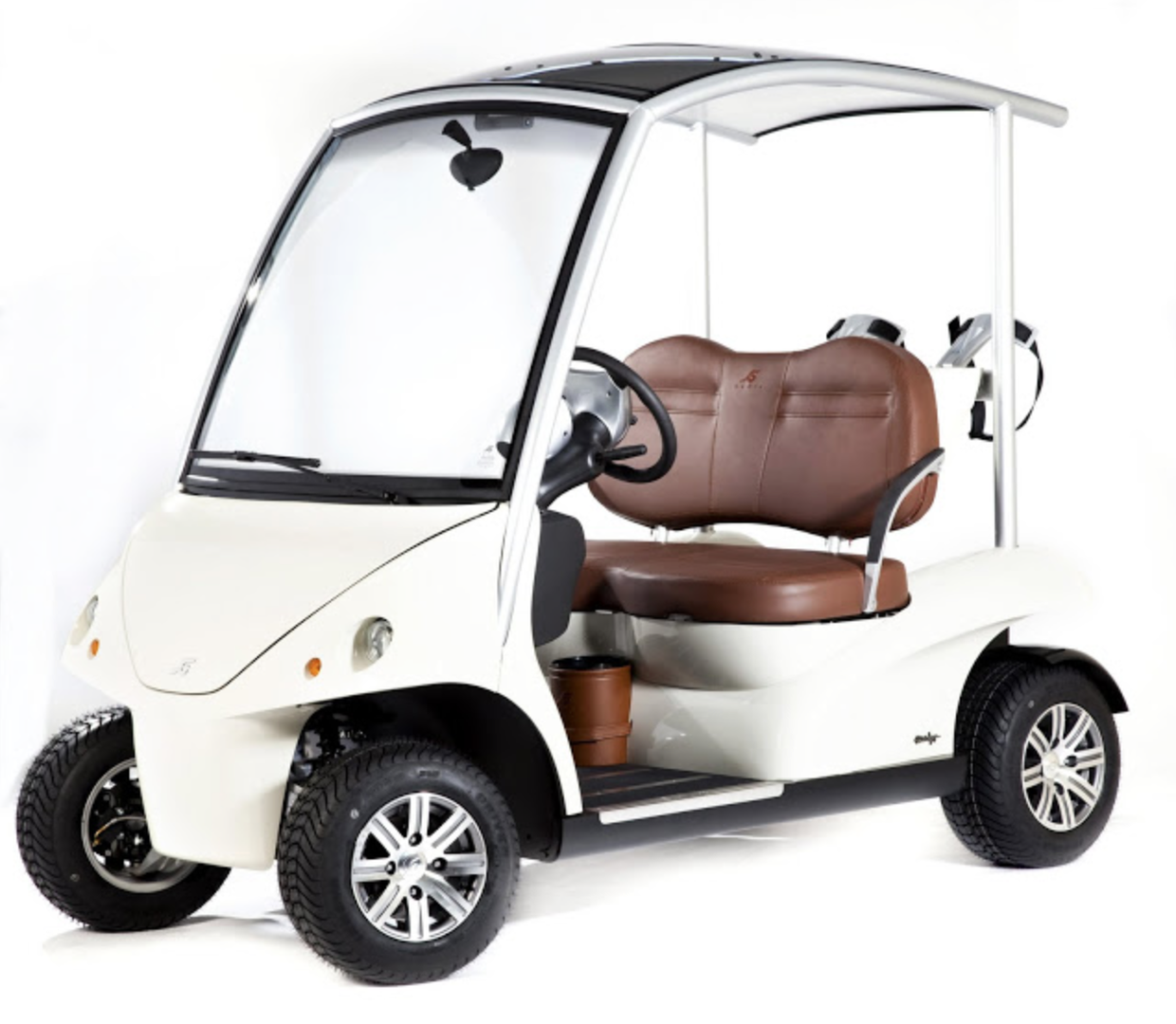 Key Biscayne Toys LLC brings the best in luxury high end golf carts to the island of Key Biscayne as a Garia distributor. The Garia is approved at more than 100 luxury communities throughout North America including the island of Key Biscayne.  Key Biscayne Toys LLC and Garia present the ultimate luxury golf car. The Garia has a very unique construction while using only the best materials that allows for complete customization to complement a vessel, home or lifestyle.

Key Biscayne Toys LLC is on the front side of this luxury golf cart movement as there is a clear trend in high-end communities allowing luxury products to be used to enhance the quality of life.

As an extremely unique luxury product, the Garia is a great match for the high-end community of Key Biscayne. With the luxury Garia golf cart, residents and visitors can complete the experience of luxury, exclusivity and unrivalled customer service which are all available right here on the island.
By far, the best way to experience the luxury Garia is to schedule a free demo with Key Biscayne Toys LLC by calling 305-934-2038 or emailing info@keybiscaynetoys.com

Stiltsville over the years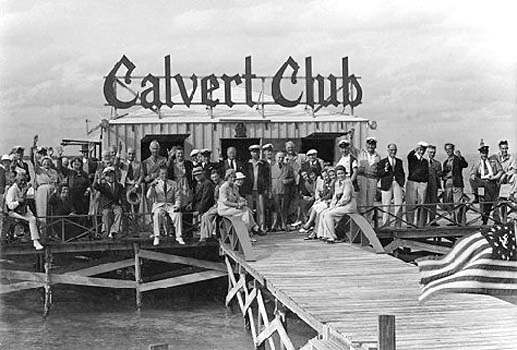 Perhaps one of the most famous Stiltsville memorabilia - The 'Calvert Club' made these postcards. One of them from one of their gatherings at the 'Calvert Club'.  Looks like a party!
Many times, to begin a "shack" men would get together with Barges and even large yachts, scope out their desired destination on the finger channels, wait for the highest tide of the month, and then at precisely the best time, they would get as much speed as their vessel could stand and ran their vessels or Barges as far up onto the sand flats as they could go until they were 'hard aground', wait for the tide to subside, and begin securing their platform to the ocean's floor, or in this case, to the sandbar's floor.  Once secured, pilings were either cemented into place or pilings were driven into the seabed with heavy equipment and cranes to further strengthen the structure and then begin to build around it, on top of it, and anywhere else they could dream up.  Docking for plenty of 'company' was soon added to assure that guests would have a pleasant and convenient experience.  On one of the old structures at Stiltsville there was a bronze plaque hanging on the deck wall that read " I hope that you are enjoying yourself, but where were you when I was building this place?" If you missed the previous page of stiltsville information and picture tour, click here to go there.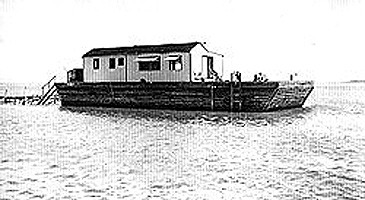 A large club with a 'back up' houseboat with dockage for the locals and a Barge that appears to be in the beginning stages.
Stiltsville started as a place with its own rules and this approach to enjoying some time on the water really caught on.  At the height of its glory days, there were 27 structures lining Biscayne Channel and numerous other finger channels.  Bait shops, Speakeasies, homes, and gambling halls.  A collection of one stop shops conveniently located, as mentioned, in the middle of nowhere.
Actually, Stiltsville is a bunch of wood stilt structures that are located about one mile south of 
Cape Florida
on sand banks of the Safety Valve on the edge of Biscayne Bay. The structures stand on wood or reinforced concrete pilings, above the shallow water which varies from one to three feet deep at low tide.  All have their own unique character to them with each offering the most fantastic views of Key Biscayne, Cape Florida lighthouse, with the City of Miami on the horizon.  To get on your own private boat tour of Stiltsville, Cape Florida and the Key Biscayne area, go here for expert local guides who provide 
boat charters
and perhaps even mix in a little lounging on a sandbar while you are out there.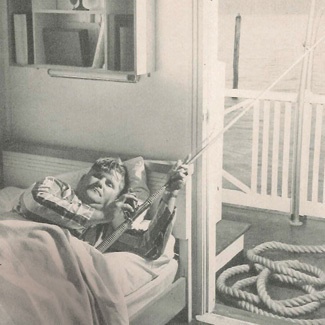 Stiltsville gained popularity, especially after the end of World War II when there was now enough steel and raw materials to complete the Bear Cut bridge, the opening of Crandon Park Beach, Crandon Park Zoo, and the Mackle Brothers Construction Company buying and developing large swaths of land on Key Biscayne and providing the financing for veterans, Stiltsville was no longer as isolated as it once was.  Instead of being located next to Key Biscayne the unihabited coconut plantation, it was now located next to Key Biscayne  the quickly growing community and now had a new draw of attention by the elite of Miami who wanted private clubs to get away from it all for the weekend or those looking to party from the time the sun sets until it comes up in the morning.  There was something for everyone and Stiltsville soon got the attention of the Media in the U.S..The Quarterdeck, for example -- which was an invitation-only private gentlemen's club -- welcomed Miami's wealthy and well-connected for drinks and, as rumor has it, a little something more to enjoy after those drinks.  A 1941 article in LIFE magazine accurately described the Quarterdeck club as "a $100,000 play-palace equipped with bar, lounge, bridge deck, dining room and dock slips for yachts."  Apparently the 1950's brought with it a generation of individuals seeking out creative and innovative ways to take advantage of the excellent fishing that the swift tides brings with it.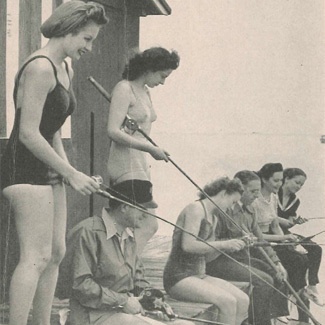 From the 1960's to the present day, one of the most well equipped, well kept, and probably the most enjoyed by the most amount of people is also the furthest away from the heart of stiltsville and is owned by the Miami Springs Power Boat Club. The pictures below are all of the Miami Springs Power Boat Club stiltsville 'shack' and as you will see, they have by far the most dockage, and one would think there is adequate dockage for everyone, yet on certain special occassions, even docking here has to resort to tying up to the vessel next to you.  It is ALWAYS worth it.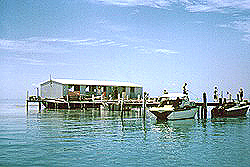 Miami Springs Power Boat Club- 1960s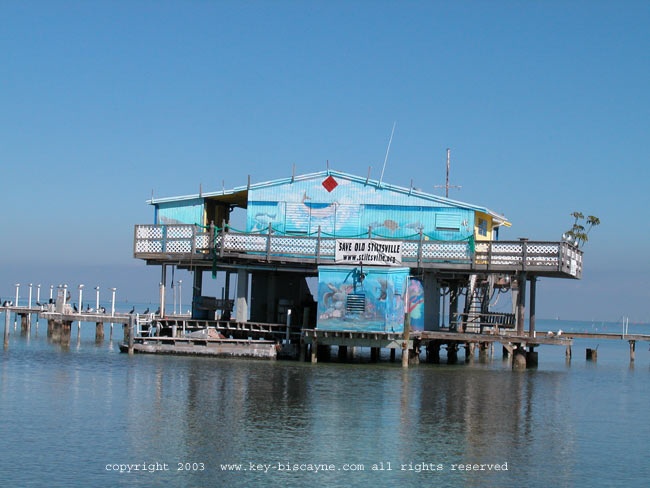 The western facing wall of the Power Boat Club stiltsville shack custom painted with an outstanding underwater mural
A view of about half of the available dockage here at the stiltsville shack with Key Biscayne on the horizon
Some of the guests showing up early enough to get a good spot at the dock