1.11.6
---
News
13 PM
Category: General
Posted by: admin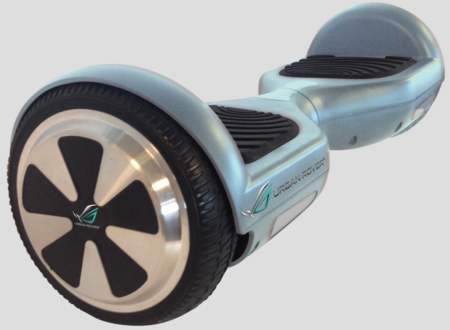 Urban Rover - The high end self balancing board.
For retail, wholesale, and distribution opportunities, please contact Eddie Dziura by emailing
eddie@key-biscayne.com
or calling 305-498-1641
10 AM
Category: General
Posted by: admin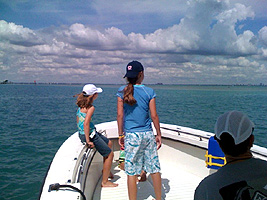 There is so much more of Key Biscayne to see and experience from the water and it is possible to rent a wonderful vessel right here on the island of Key Biscayne.  If you and your friends and family would like to tour the sandbars, the bay, or venture into the blue water for some offshore fishing in a twin engine vessel or sail aboard a luxurious catamaran sailboat, your trip is merely moments away. Simply call or send a text to 305-498-1641 for prompt, friendly, and professional assistance in putting together your personalized and private time on the water today.  email: keybsea@gmail.com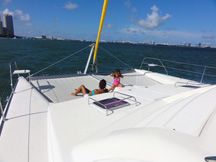 12 PM
Category: General
Posted by: admin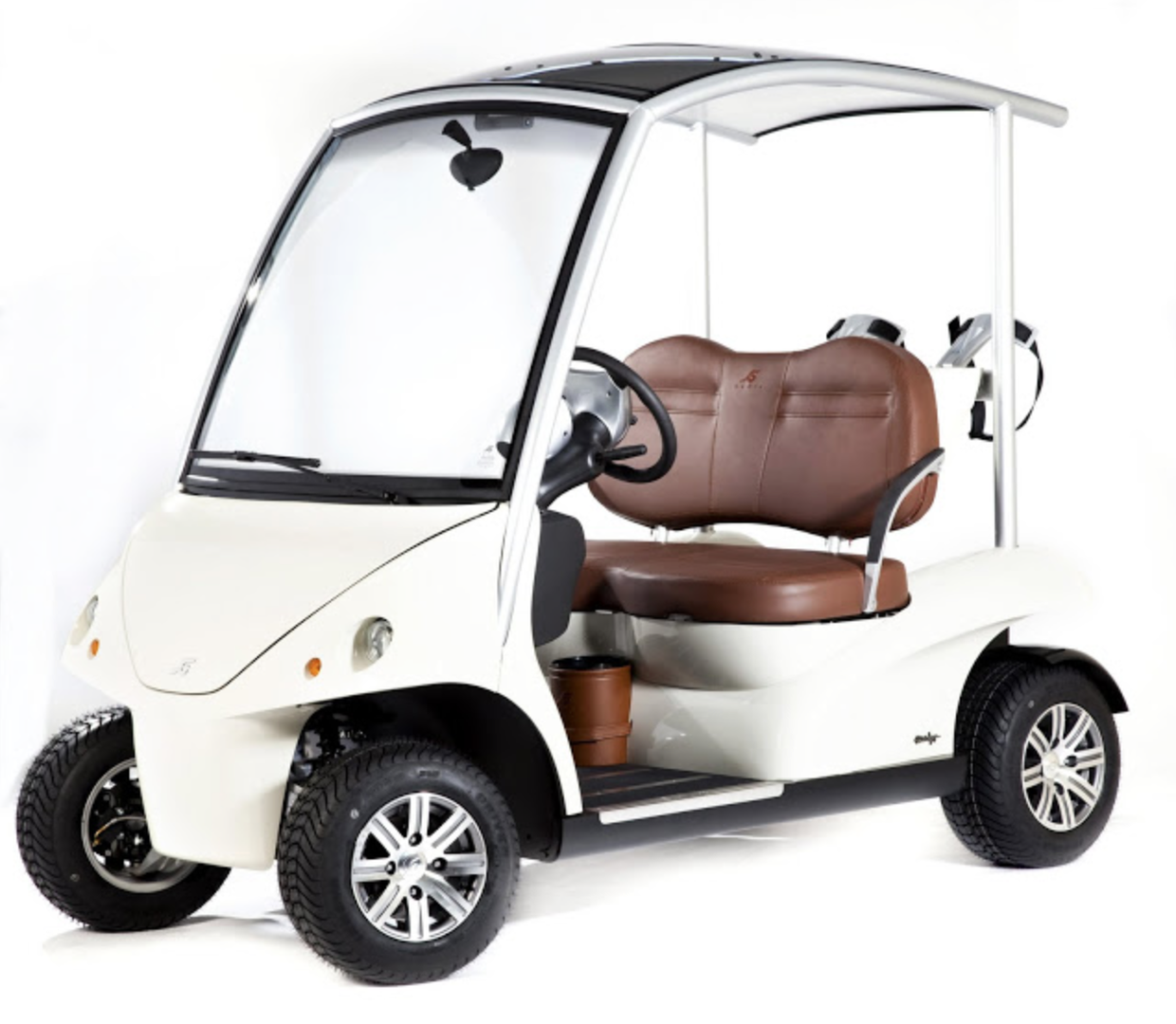 Key Biscayne Toys LLC brings the best in luxury high end golf carts to the island of Key Biscayne as a Garia distributor. The Garia is approved at more than 100 luxury communities throughout North America including the island of Key Biscayne.  Key Biscayne Toys LLC and Garia present the ultimate luxury golf car. The Garia has a very unique construction while using only the best materials that allows for complete customization to complement a vessel, home or lifestyle.

Key Biscayne Toys LLC is on the front side of this luxury golf cart movement as there is a clear trend in high-end communities allowing luxury products to be used to enhance the quality of life.

As an extremely unique luxury product, the Garia is a great match for the high-end community of Key Biscayne. With the luxury Garia golf cart, residents and visitors can complete the experience of luxury, exclusivity and unrivalled customer service which are all available right here on the island.
By far, the best way to experience the luxury Garia is to schedule a free demo with Key Biscayne Toys LLC by calling 305-934-2038 or emailing info@keybiscaynetoys.com

Stiltsville - Present day pictures
Stiltsville - To better understand what these pictures  of stiltsville represent, a little knowledge of what the area represented will be helpful to better appreciate what these remaining structures have been through to remain here.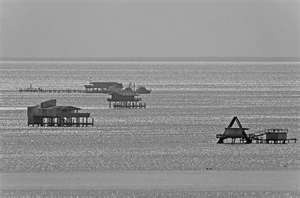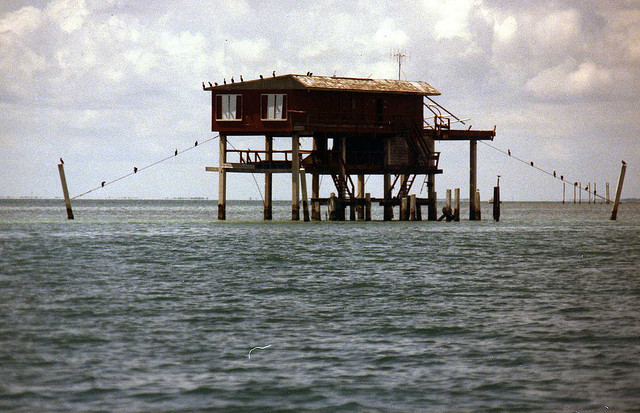 In 1962,  a 150-foot yacht named, "Jeff" was grounded in the flats of Stiltsville and was turned into a social club. The name for this fine establishmment?  The Bikini Club.  Alcoholic drinks were offered for sale, with free drinks to women wearing bikinis. A sun deck was provided for nude sunbathing and staterooms could be rented for any purpose ( a mid-day nap for example ). The Bikini Club was raided by the Florida Beverage Commission in the summer of 1965 and was closed down for selling liquor without a license. On September 8, 1965, Hurricane Betsy destroyed most of Stiltsville and severely damaged the boats upon which the Bikini Club was based. In 1966, what remained of the Bikini Club burned to the waterline.


It is also helpful to remember these remaining structures also survived the 1980s-1990s when these waters and this area around Miami was certainly the epicenter of illicit drugs entering the U.S. when the 'Cocaine Cowboys' reigned supreme, speedboats will run up onto the beaches of Key Biscayne and other islands, men with duffel bags would jump out to a waiting car and take off.  The days when small aircraft and seaplanes would drop large 'packages' to speedboats waiting around the Stiltsville area, and the near 200 mph winds that Hurricane Andrew brought over the area in 1993.  Today, these 7 structures still remain just a little over 1 mile south of Key Biscayne and

Key Biscayne's Cape Florida lighthouse.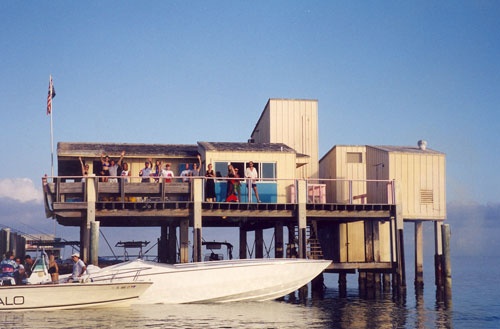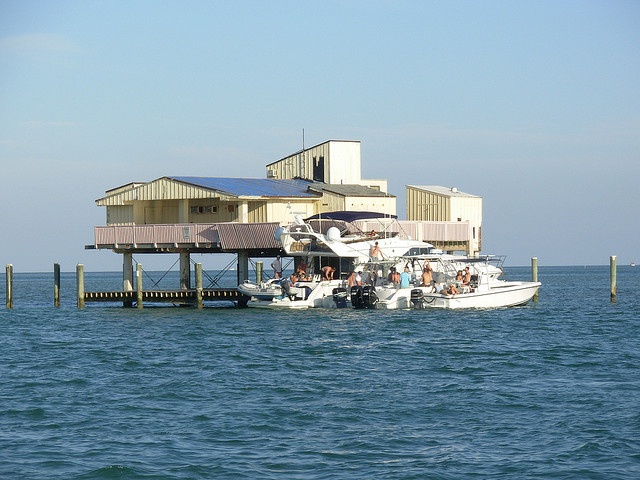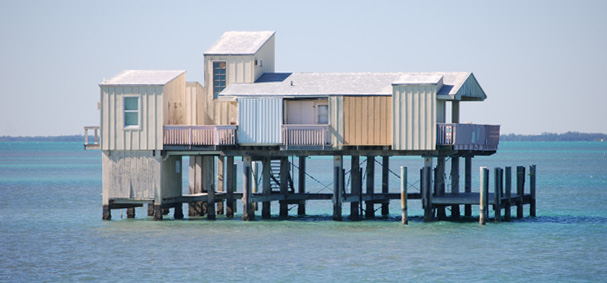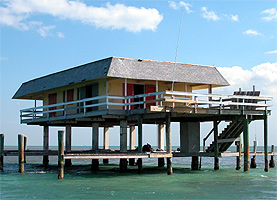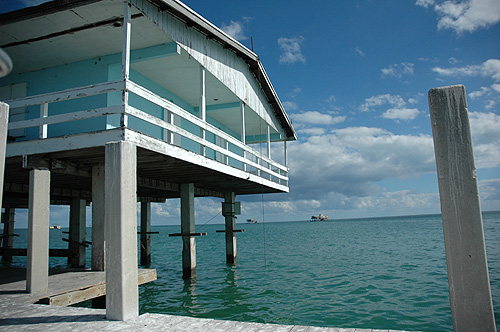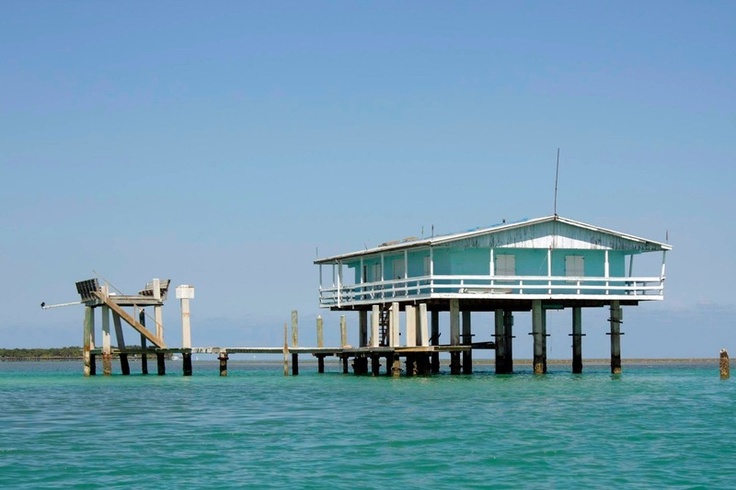 First page of stiltsville shacks with some aerial pics of the area.
Previous page of stiltsville shacks on the water
To see Stiltsville from the water take your friends and family on a private boat charter.
Call or text 305-498-1641  email: keybsea@gmail.com